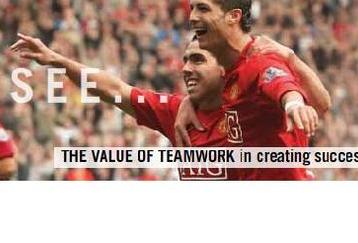 It appears Manchester United are in a real crisis at the moment, what with financial figures indicating that if they didn't sell Cristiano Ronaldo to Real Madrid for a world record £80 million, they would post a massive loss for the financial year.

Of course, any club with interest payments of £69 million a year and debts of around £700 million isn't exactly going to be plain sailing in the financial department, are they?
And whilst this crisis with the moneymen has deflected attention from the on-pitch failings, it has also deflected attention from one of the pictures on the
AIG website homepage
.
On there, visitors will see today a picture of Ronaldo congratulating Carlos Tevez for a goal from the 2008/09 season, with the caption underneath the picture reading, "We see the value of teamwork in creating success."
So, the Old Trafford club are being endorsed on the homepage (the first thing visitors of the Web site will see) of their main sponsor by two of their former players.
And there's so much teamwork involved that AIG couldn't even update their Web site to reflect the successful players of the 2009/10 United team, i.e. Wayne Rooney, Antonio Valencia, Ryan Giggs, etc.
Well, that goes to show how much the American International Group care about Manchester United.